When the Hong Kong Arts Festival approached Professor Chan Hing-yan in 2015 to compose a piece to commemorate the 20th anniversary of Hong Kong's handover and the festival's own 45th anniversary, it seemed a straightforward assignment: pick a theme, create a structure and compose around that. Little did he know.
Those initial talks gave way to a bigger vision of leading a group of young composers, advising on musicians and singers, incorporating modern pop music, working with a video artist – in effect, seeing the project through from conception to page to stage.
"It turned out to be a lot of work and preparation. I had to compile the text, make sure there was a good balance in the use of the different performers and musicians, and manage things like the number of percussion instruments on stage," Professor Chan sighed. "I'd never done anything like this before."
Nonetheless, the task sparked his curiosity and passion. He sought inspiration from written works and dug through countless poems and literary writings, as well as old and new pop songs and political anthems, that all had a Hong Kong connection. These works created the structure around which Professor Chan and three young composers – Phoebus Lee, Daniel Lo (an HKU graduate) and Charles Kwong – composed their music.
The result is Hong Kong Odyssey, a 100-minute production in the form of a staged cantata performed over three nights at City Hall in February that combines music and words to offer a lyrical re-telling of Hong Kong's history.
​

There hasn't been anything done on such a scale before so we are making history.

Paying tribute
The theme tying it all together is the tram, which acts as a refrain throughout the production. "I chose the tram because it is iconic in Hong Kong and it has the longest history here, and it moves along telling the story of Hong Kong. Many writers write about it," he said.
A large cast of performers was involved in the February production, including a 29-musician ensemble, children and adult choruses, local celebrities who provided narration, and an 80-year-old Hakka man who will sing a Hakka song with lyrics composed by himself. Choreographer Helen Lai directed and Lio Kuokman was the conductor.
"The 16-section text of Hong Kong Odyssey encompasses more than 30 works from over 20 authors, and most songs are sung in Cantonese. This is a profoundly significant initiative that both the Festival and the whole creative team should be proud of. There hasn't been anything done on such a scale before so we are making history," Professor Chan said.
"It's meaningful to do a project like this about Hong Kong, and to pay tribute to all these Hong Kong writers," he added. And they have given him a gift. He has many leftover poems from his research which he hopes will inspire his future compositions.
Poetic interpretations
An example of how the disparate components were brought together is a march called The Fiery Years: Hail, the Steeds of Legend! that takes its title from a 1964 poem by Kun Nan about being both Western trained and steeped in Chinese culture. The march recounts the turbulent 1950s and 1960s when Hong Kong experienced riots and unrest in the wake of revolution in China. It includes snatches of songs that were sung by both the Nationalists and the Red Guards, with the Chinese pipa and a spaghetti Western riff thrown in.
"This is a good mixture to show Hong Kong was a combination of the West and China," Professor Chan said. "At that time, a lot of well-educated youngsters were very curious about their roots and their heritage. I composed this as a march to show their spirit. I didn't want it to be a sad song about the riots."
On the other hand, towards the end of Hong Kong Odyssey is a 'gloomy serenade' inspired by Chan Chi-tak's poem The Ineffable Future, and an epilogue based around two pieces: a poem by HKU Fine Arts Professor David Clarke, A City Passing, about protests over the Queen's Pier demolition, and the 1940s song, "So Long, Hong Kong, which has recently become an anthem for social activists. The lyrics say that we can't count on anybody to build and fight for Hong Kong. And that goodness grows in conflict and evil perishes," he said.
"I gathered all these poems because they have implications and you have to take time to understand them. Such work requires not only the creative mind of a composer, but also the acute mind of a scholar."
Other literary inspirations included poems by such figures as a Qing Dynasty diplomat, Sir Cecil Clementi who was Governor of Hong Kong in the 1920s, and Yasi (the late Leung Ping-kwan, who formerly taught at HKU), writings by novelists Eileen Chang, Lilian Lee and Lau Yee-cheong, and Cantopop songs such as Tat Ming Pair's We Should be Very Happy Today which became popular after the June 4 incident.
Hong Kong Odyssey was held in the Hong Kong City Hall in late February as one of the programmes of the
45th Hong Kong Arts Festival.
(Courtesy of Keith Hiro and Hong Kong Arts Festival)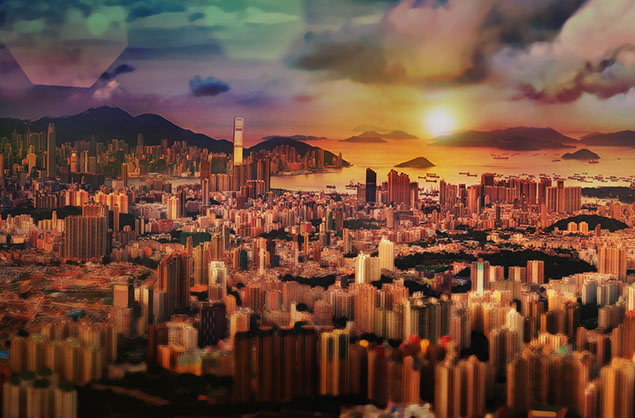 The Story behind
Hong Kong Odyssey
A landmark music production about Hong Kong history's from the 1840s to the present day, featuring four composers and nearly 100 performers, has been led by Professor Chan Hing-yan in the Department of Music.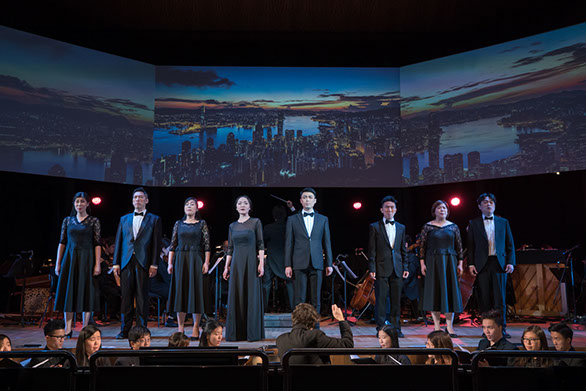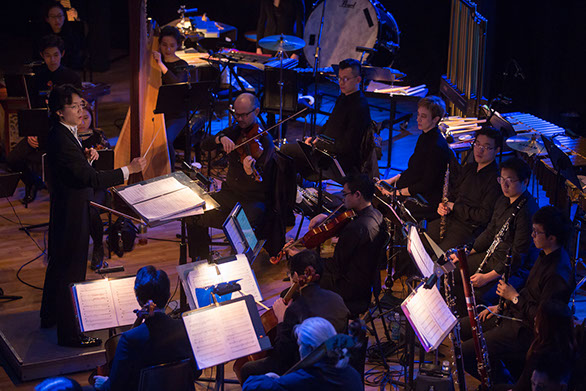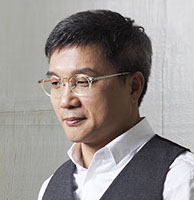 (Courtesy of Hong Kong Arts Festival)