Early Childhood Education (ECE) has become a key focus area for the Faculty of Education, which is active in postgraduate training in early childhood and is doing innovative research that has informed government policy in different parts of the world.

At the heart of that matter now is a possible change to current local policy – under which children in Hong Kong receive 12 years of free education – to 15 years of free education, three of which would be kindergarten. At present, children are entitled to kindergarten education, for which they can get government support via a voucher system.

A Committee on Free Kindergarten Education has been newly formed to advise the Government on this issue. Professor Nirmala Rao, Serena HC Yang Professor in Early Childhood Development and Education, is a member of the committee. She and her colleague Dr Li Hui are members of two of its five sub-committees.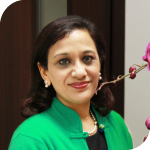 We are also putting strong emphasis on the importance of play. We are recommending that Early Childhood Education is more play-based and less academic.
Professor Nirmala Rao

Evidence-based decisions
"The Committee and sub-committees have a broad membership including representatives from schools, the Education Commission and parent groups," said Professor Rao. "Our role on the committees is to provide advice based on research findings – our own, and the work of other experts from around the world – to inform policy, enabling committees to make evidence-based decisions."

The Faculty also contributes research to influence policy on pedagogy. "The Faculty is strong in language teaching, particularly how to teach language in the early years," she said, "and we are also putting strong emphasis on the importance of play. We are recommending that ECE is more play-based and less academic – a more holistic approach."

Hong Kong's policy on ECE until now has not been great in terms of spending, but good in terms of access to services for all. "There are kindergartens everywhere, everyone can go and because of the Government's voucher system there is no financial barrier to entry," Professor Rao explains, adding it is not the availability of kindergartens that is the problem, it is the quality. "One of the main aims under the new policy would be to ensure that the quality of ECE is excellent across the board."

HKU is making a strong contribution to ensuring that quality by training future teachers and leaders in the field. The Faculty introduced the first Master of Education in ECE in Hong Kong, a Postgraduate Diploma of Education in the subject in 2007. "We currently have four full-time academic staff and 12 doctoral students specialising in ECE", said Professor Rao.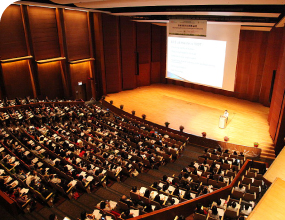 The sought-after international forum on kindergarten education held in the Grand Hall was attended by experts from Europe and Asian region.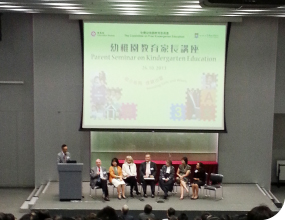 A parent seminar on kindergarten education was held last October.
Laying the foundation for learning
"ECE is the foundation for all later learning. What happens at this stage is crucial. When it comes to educating the educators in ECE, the Faculty places emphasis on teaching them to be very aware of individual differences between children," she said. ECE educators must have qualities unique to this area of teaching, including learning to work well with parents. Because the students are so very young, the teachers have to become advocates for the children.

In line with HKU's stated drive to enhance Knowledge Exchange – one of the three strategic themes of the University's Strategic Development – the Faculty has continually taken the initiative in organising seminars and workshops not only for those involved in the education industry, but also for parents.

HKU organised an international forum on kindergarten education and a parent seminar for the Education Bureau in October 2013. Experts from Paris, the United States and United Kingdom, as well as from the Asian region, Hong Kong, Korea and Singapore, spoke at the two events, which were both oversubscribed.

The forum filled the new Grand Hall on the Centennial Campus. Professor Rao lectured on striving for excellence in kindergarten teaching in Hong Kong, while others covered subjects including brain research and early learning and supporting early language learning.

Two other workshops organised last year were equally popular. 'Nurturing Your Children's Creativity and Talent Development: Some Practical Tips for Parents and Teachers', was held in February, while 'Early Years Education Conference' in March had the theme 'Promoting Language and Literacy in Early Childhood: Bridging the Gap between Research and Practice'. Topics included managing the trilingual child in the classroom and fun methods to engage students in learning new vocabulary.

Parents in Hong Kong are renowned for being closely involved in their children's education. "Ensuring them that we can provide their children with the right start through quality ECE across the board is crucial," said Professor Rao. "The Committee will finalise its report in 2015, then the Government will decide on ECE policy based on our recommendations."■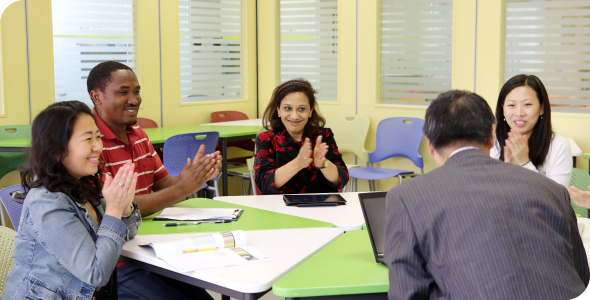 Professor Rao with her PhD students in Early Childhood Education.