Dental postgraduate Dr Jayakumar Jayaraman has launched the world's first charity to promote accurate birth records through Dental Age Assessment (DAA), with the aim of helping people protect their identity and rights.

The charity is called the DOB Foundation – with DOB standing for Date of Birth – and was officially launched in last August at HKU's Prince Philip Dental School, with the first centre being set up in India.

"Birth registration is a fundamental human right," said the final-year PhD student. "It is proof of a person's existence, it can protect against child labour and child marriage, and can give people access to education and health care."

Advertisements in Chennai, India, encourage people to bring their children to the DOB Foundation centre for free assessment, after which they get a birth certificate which is now recognised as legally valid by the authorities. In addition, the charity also arranges dental checkups and treatment, spreading the word about oral hygiene across the community.
Wide implications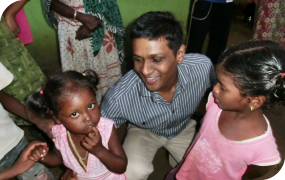 Dr Jayaraman interacting with children without birth records.
Registering births has wider implications too in areas such as immigration, citizenship, welfare, political asylum, basic human rights and criminal prosecution. Where the latter is concerned Dr Jayaraman cites a recent gang rape in India, where one of the accused claimed to be under 18 to avoid being tried as an adult. "He got three years, the others got the death penalty," he said. "In such serious cases, it is crucial to be accurate."

He first became interested in Dental Age Assessment research in connection with asylum seekers in the United Kingdom (UK). Refugees aged under 18 are entitled to stay and be given a home and funding, while those over 18 can be deported if they are not considered a real refugee, so this kind of assessment is used widely there.

When he proposed pursuing this area as his PhD project, Dr Jayaraman's former Hong Kong supervisor Professor Nigel King recommended that he go to the UK and work with Professor Graham Roberts at the King's College London Dental Institute. He spent a month in the UK learning the methodology.

Dental Age Assessment has been found to be more accurate than more commonly used methods such as bone development or sexual maturity, both of which can be affected by more external factors like vitamin deficiency.

In the near future, he expects this methodology to have a new use – for climate change refugees. Scientists predict that by the 2050s, rising sea levels will force people living on low-lying areas to migrate. "Many of the people who will be effected don't register births, but this will become more important when they have to move."

DAA could also make for more accurate population statistics, which can have long-term implications for a country's economic policy. Dr Jayaraman discovered during his research that in some countries the amount of births registered is surprisingly low. UNICEF figures show that in India only around 41 per cent of births are registered, while for China the figures are simply not there. "In fact only about 50 per cent of the world's children are registered, which has far-reaching implications for economic predictions including food supply, schools and health care provision."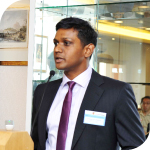 Only about 50 per cent of the world's children are registered, which has
far-reaching implications for economic predictions including food supply, schools and health care provision.
Dr Jayakumar Jayaraman

Educating dentists
Not only has he set up the charity, but he also had to take steps to educate dentists. "As part of our research in India we interviewed 200 dentists from Chennai to evaluate their DAA abilities. It turned out very few knew how to carry out the tests accurately. So now we are holding workshops there to teach them."

He did his own training at DARLING (Dental Age Research London Information Group) and is keen to share that knowledge. "India is not the only place where dentists lack the skills to assess age accurately. In fact, most dental training institutions around the world do not actually teach it. Currently there is no universal legislation on DAA methodology, and that is something we would like to change – we would like to establish a universal protocol."

They have sent proposals to many organisations dealing with birth date disputes, a prime example being the Australian Human Rights Commission, which is dealing with more and more maritime refugee arrivals – 18,000 in 2012. "Before they were doing bone assessment to determine age," said Dr Jayaraman, "but now they are slowly switching to other methods, particularly DAA. There are numerous uses for this process."

Date of Birth Foundation actively engages with the community and is further expanding its reach to other developing countries in the world. To learn more about their activities or to make a contribution, please visit http://www.dob-foundation.org■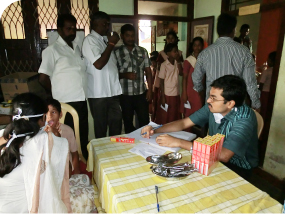 As part of the project titled 'Giving an identity to undocumented children in Chennai, India', children registering for oral health checkup.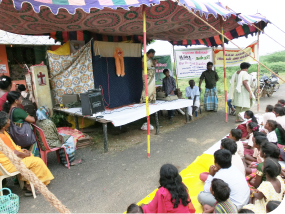 Children enjoying the puppet show portraying the importance of birth registration in Minjur area of Chennai city, India, in December, 2013.