We have a relatively young staff, a malleable structure, strong links with industry and a chance to build something uniquely synergistic.
Professor Chris Webster

"Within five years I would like to have created a new kind of Architecture and Urbanism school that universities around the world will take note of and aspire to emulate."

Inspiring words from the new Dean of Architecture Professor Chris Webster, who joined the Faculty in May 2013, from Cardiff University where he headed Britain's top City Planning school and directed the UK Centre for Education in the Built Environment. It was a job he thought he would never leave. Then came the call from Hong Kong.

"HKU's Faculty of Architecture has the best collection of departments of its kind in Asia, and one of the best collection of subjects under one roof anywhere in the world," said Professor Webster. "The calibre of staff is high, the students are outstanding and we are located at the epicentre of 21ˢᵗ century urbanisation. Where else would I want to be?

"The five departments separately do great work and already have solid reputations around the world. Where I see potential is in helping them do good work together as well – the industry today wants people who can cross boundaries. We have a relatively young staff, a malleable structure, strong links with industry and a chance to build something uniquely synergistic that most Built Environment faculties know is needed but few can deliver on."

Professor Webster's links with HKU are many and date back to 1987 when he gave the first overseas lecture of his career at a conference here, in the Main Building.
Spontaneous and planned
"I like Hong Kong as a city, not least because it's a genuine mix of the spontaneous and the planned," he said. "It's been my life's academic work to understand this paradox – how do you design the spontaneous, plan for surprise, manage complex self-organisation? I guess in coming here I'm putting my money – and my family and reputation – where my mouth is."

Five new projects already underway indicate the direction of travel under Dean Webster's leadership. The first brings the Faculties of Architecture and Medicine together – "putting HKU at the centre of international efforts to unravel the relationships between urban design and individual health."

Projects two and three will expand the Faculty of Architecture on both arts and science fronts. "Within a year we hope to be building our own Architectural Gallery in the Knowles Building, which along with our Shanghai Study Centre Gallery, will be a major venue for student and professional design exhibitions from around the world," he said.

Funding has also been secured for a state-of- the-art HKUrban iLab – home for all kinds of urban computational work including the Faculty's Geographical Information Science (GIS), Building Information Modelling (BIM), parametric design and urban econometrics research. An iLab grand-challenge-style project that Professor Webster is currently drawing support for in the city is 'Walkable HK' – a project to produce the world's most advanced analytical 3D urban pedestrian model, "with the objective of working with government agencies and the development industry to make Hong Kong the most walkable city in the world".

A delegation, of which Professor Chris Webster (centre in the back row) is one of the members, from HKU's Ronald Coase Centre for Property Rights Research visited Professor Ronald Coase in Chicago in June, 2013.
Shaping Burma
Professor Webster is reaching overseas too, with a three-year Global Citizenship Overseas Learning and Service Programme in Burma. "Four groups of students – landscapists, architects, conservationists and urban planners – will each year go to Yangon, and work with local counterparts to help make a difference to the way the city takes shape at this critical moment in history," he explains. "The city is set to take off economically, and we are readying ourselves to help conserve its unique heritage quarters, to transfer low-carbon design technology and to offer approaches to eco- sensitive urban growth strategies. I would like all of our students to be a part of this."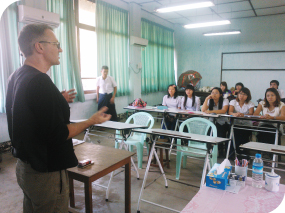 As part of the Global Citizenship Overseas Learning and Service Programme in Burma, Professor Webster visited a Myanmar institute in November, 2013.
And finally – for now – he is working to secure funding for the next phase of the Faculty's Shanghai Study Centre (SSC). "We're hoping to develop the SSC more fully into 'the place to be in China' for international and Chinese architects, urban planners and other urban scholars: a gallery for leading American, European and Asian architecture schools to display their best work, lecture hall and design studios for international collaborative student work, and a place to bring artists and scientists together to explore the power of creativity techniques."

By the end of May 2014, a year after arriving, Professor Webster will have launched a re- branded Faculty under the new name ᴴᴷUrbanᴸᵃᵇ.

"Both my Faculty and leaders of the architecture, planning, landscape and surveying professions in Hong Kong have given me their full and enthusiastic backing for this, which they see as a signal of a new and exciting way of doing things." This is important, as another of his aims is to bring the Faculty and the professions together in a much closer, mutually beneficial relationship.

Describing his career as a "life-long devotion to understanding and shaping cities", Professor Webster said his interest came from growing up in London, one of the world's great historical metropolises. It was in the 1970s, a time of oil price rises, power cuts, miners' strikes and dismal architecture and planning, that he had his own light-bulb moment about his home city and his future career; inspired by a high-school lecture about the first phase of London Dockland redevelopment.

That led him to take degrees in urban planning, economic geography, computing mathematics and economics, from whence he embarked on a research quest that uses computational spatial economic models to unlock the 'DNA' of cities. He has taught and researched at Cardiff University, Cambridge University and Universiti Tecnologi Malaysia.

Summing up his aims for the Faculty: "I would like to see it move from very good to excellent. From top in Asia to one of the best in the world – a preferred choice to University College London, Cambridge, Harvard etc, because it has what they have but it's also at the heart of the greatest urbanisation phenomenon in the history of civilisation..."■