My research interests are evolving, moving from national history to international but still with disasters, humanitarian relief, and everyday people in mind.
Professor Charles Schencking

The 7.9 earthquake of September 1, 1923 and the fires it sparked killed 105,000 individuals and burned 45 per cent of Tokyo. In his book, Professor Charles Schencking, Professor and Chairperson of the Department of History, explores how the calamity rattled people's anxieties about modern life and compelled elites to re-examine the trajectory of Japanese society. Many believed that the disaster created a once-in-a-lifetime opportunity to not only rebuild Tokyo, but also to reconstruct Japan. Such optimism was not unsurprising.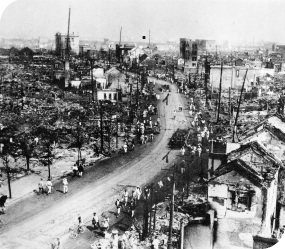 The remains of once bustling Kanda Ward, Tokyo.
Overnight, fires consumed 33 million square metres of Tokyo. "It's difficult for people to comprehend such destruction," said Professor Schencking. To assist, he tells his students, "Imagine spending the night in the New Territories and returning to Hong Kong Island only to find the entire Western, Central and Wan Chai districts, and just over half of the Eastern district reduced to ash and rubble."

He reflects that researching and writing the book altered his approach to history. "I trained as a political and economic historian who privileged elite-level sources. This topic led me to delve into the everyday lives of countless Tokyoites and to document how this calamity turned their worlds upside down." Such a focus enabled him to craft a great story: "history from the ground up as well as from the top down."

Completing his book in 2011, Professor Schencking found fascinating parallels between Japan's 1923 and 2011 earthquake experiences. In 1923 the disaster prompted people to reflect on many aspects of life – science, religion, lifestyle and politics as well as on more obvious topics such as death, mourning and planning a new city. Moreover, many believed the disaster created an opportunity to forge a new Japan. Following the 2011 Tōhoku catastrophe many Japanese likewise shared this sense of 'disaster as agent of change'.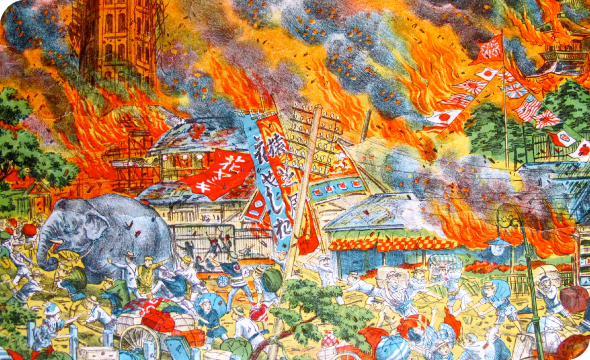 A lithograph print illustrating the spread of fire around the 12-storey tower in Asakusa Park and Hanayashiki.
Panic and pandemonium
But one key difference exists, namely how people reacted immediately following each calamity. "People panicked after the 1923 disaster and Tokyo descended into pandemonium," said Professor Schencking. This frightened government officials and soon after they implemented policies geared toward disaster preparedness that continues today. Results were seen in 2011. Many commentators remarked on the stoicism, calmness, and resilience exhibited by Japanese in the wake of the Tōhoku disaster.

He is now working on two related research projects. First is a pictorial history of the Great Kanto Earthquake which he hopes will be published by Hong Kong University Press in 2015. Professor Schencking's research uncovered a rich cache of visual materials including artwork, sketches, prints, and postcards – some of which included ghoulish pictures of the dead and scenes of total destruction.

There also exists a collection of colourful lithograph prints dramatically depicting the calamity. One print documents fires engulfing the city as people flee, while another highlights the destruction of the 12-storey tower in Asakusa and the entertainment quarters of Hanayashiki which housed a famous circus. The elephant in the print (as shown in the above picture), Professor Schencking confirms, survived.

Second, is a new book, entitled America's Tsunami of Aid – Compassion, Opportunism and Delusion following the Great Kantō Earthquake, for which he has received handsome Research Grants Council funding. It not only documents how much money America gave to Japan following this disaster – more than all other nations combined – but it also examines why America's response was so generous at a time when relations between both countries had become increasingly estranged. Many people gave out of a true sense of compassion. "Humanitarian aid, however," he cautions, "can often be political." Indeed, money came from unusual sources including local Ku Klux Klan chapters and also from anti-Japanese groups who wanted to see Tokyo rebuilt rather than risk an influx of Japanese immigrants.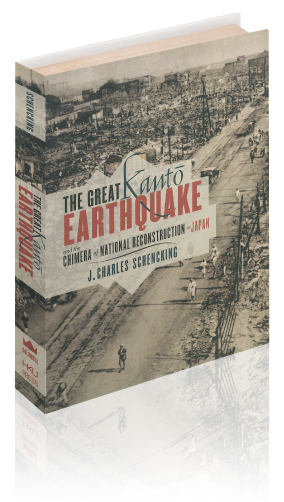 "It's another way in which people believed a natural disaster could be used to fundamentally change something larger: this time soothing increasingly tense diplomatic relations between both countries." But the notion that disasters can change everything is "sometimes chimerical" he warns. Goodwill created by the United States' assistance evaporated in 1924 when America passed the Oriental Exclusion Law ending all further Japanese emigration to the United States. In Japan, an overwhelming sense of disillusionment with America emerged.

His new research project will take Professor Schencking back to Japan but also to a multitude of archives in America. "My research interests are evolving," he concludes, "moving from national history to international but still with disasters, humanitarian relief, and everyday people in mind."

The Great Kantō Earthquake and the Chimera of National Reconstruction in Japan is published by Columbia University Press and Hong Kong University Press.■