Main content start
CHOW Yei Ching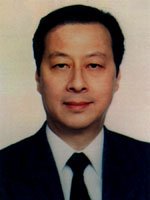 153rd
Congregation
(1997)
CHOW Yei Ching
Doctor of Laws
honoris causa
The Public Orator, Professor M.M.M. Chan, MA, MPhil, wrote and delivered the following citation:
A philanthropic knight in shining armour a cavalier at the controls of a Baron 58 plane winging its way to the major cities of the world; a staunch advocate of the Confucian values of loyalty, filial piety and integrity in the cut-throat world of international big business; a firm believer in formal education who freely acknowledges his own schooling has been largely gained from the school of life *** these are but a few of the ways in which to describe Dr. Chow Yei Ching, whom our University seeks to honour this afternoon. The apparent contradictions in Y.C. Chow, as he is generally known, in fact, combine to make a harmonious whole, and a most worthy recipient of our award.
All the world loves a success story, and so much the more when the hero of the story is as deserving as Chow Yei Ching. Born in Shanghai more specifically the Zhoushan peninsula off Ningbo. Dr. Chow came to Hong Kong at the age of seventeen to join his sister here. He came all alone, having left the rest of his family on the Mainland, and he came all unarmed save for courage, determination and the willingness to work hard. Barred from the only university then in existence in Hong Kong by inadequate academic preparation and inadequate funds, he went to National Taiwan University to study mechanical engineering. He gained military experience in the airforce, and developed the love of aeroplanes and flying which has stayed with him to this day. The private plane which he himself pilots and the innumerable miniature planes which decorate his office all attest to this love.
Dr. Chow subsequently returned to Hong Kong to work as engineering manager for the Hong Kong agent for Hitachi and then as Director for Hitachi Elevator Engineering Co. (H.K.) Ltd. In 1970 the opportunity presented itself to Y.C. Chow to set up his own company. He started off very modestly, employing only six employees. At first the company, named Chevalier, concentrated mainly on the installation and maintenance of Toshiba lifts and escalators, but through a judicious policy of expansion and diversification in response to market demand, Dr. Chow today is at the helm of the Chevalier Group of Companies, which consists of four holding companies, which are all listed on the Hong Kong Stock Exchange, and one other holding company, listed on the Singapore Stock Exchange. The conglomerate today employs over 4500 staff members. Although their headquarters remain in Hong Kong, the group now has branches in six countries and six major cities in China, and has diversified into a wide range of heavy engineering works with emphasis on large scale envirotect construction works and sewage projects.
One of the secrets of his success is the loyalty he inspires in his staff. He returns trust for trust, willingly delegating responsibility. But we are not gathered here to sing paeans to Dr. Chow the hugely successful businessman. What distinguishes Y.C. Chow from many other wealthy tycoons is his strong sense of social responsibility which permeates all facets of his activities. He feels the plight of the less fortunate and wishes to shake some superflux to them, so distribution should undo excess. His motto is "from society, to society" and he directs his energy towards rendering unto society a part of what society has given him.
One instance will help to illustrate the Chevalier code of business conduct and Dr. Chow's belief in rendering full measure to the community. Chevalier is the largest joint developer with the Government of Private Sector Participation Scheme flats for the Housing Authority. Motivated by the Chevalier code of ethics the group has treated this activity as much as a matter of community service as of business and, in recognition of the high quality of their work, the Housing Authority has twice awarded the group its Contractor of the Year Award.
Y.C. Chow embarked on his career of community service almost two decades ago; and his philanthropic activities have been gaining momentum year after year. He has served as Director of both the Yan Chai Hospital (1978) and the Tung Wah Group of Hospitals (1990), as a member of the Board of Directors of the Community Chest (1995) imbued with the belief that charity is the queen of virtues. He has also taken part in the work of his fellow businessmen as Chairman, the International Association of Elevator Engineers (Hong Kong Branch), as Governor of the Board of Governors, the Canadian Chamber of Commerce (1993), as a General Committee Member of the Chinese Manufacturers' Association of Hong Kong. He has shown his interest in good management by having been a Fellow of the Hong Kong Management Association since 1995. Nor has Dr. Chow lost sight of his ties with his place of origin: he has been a Member of the Chinese People's Political Consultative Conference, Shanghai, and Vice President of the Ningbo Residents' Association (H.K.) Ltd. since 1993, and President of the Zhoushan Residents' Association (H.K.) Ltd. since 1992. Dr. Chow is also a Member of the Selection Committee for the First Government of the Hong Kong S.A.R. of the PRC. For his total commitment to the idea of service, Dr. Chow has won deserved recognition, both locally and internationally. He received an O.B.E. in 1991 for his contributions towards promoting commercial ties between the U.K. and Hong Kong; in 1993 he was made an Officer in the Order of the Crown by the King of the Belgians and in 1996, an Officier de l'Ordre National du Merite by the French Republic. He was awarded an Honorary Doctorate of Business Administration by the Hong Kong Polytechnic University.
What is particularly worth elaboration and praise is his intense belief in, and generous support of, education. He believes that a community's best resource is its people. We Chinese have a saying, "it takes ten years to grow a tree; it takes one hundred years to cultivate a human being." This is an adage Y.C. Chow firmly subscribes to. And to this end *** of developing human potential through education he has donated and is prepared to continue to donate most generously not just money but also time and dedication. He has lent support not only to our University but also to our sister institutions in Hong Kong: He has been a Member of the Court, the Supreme Advisory Body of the Hong Kong University of Science and Technology, since 1995. Since 1995, too, he has been a Court Member and Chairman of the Advisory Committee of the Department of Management of the Hong Kong Polytechnic University. He has also lent support to institutions outside Hong Kong: he is Chairman of the Hong Kong Alumni Association of his alma mater, National Taiwan University and Honorary Member of the Board of Directors of Nanjing University. Nor is Y.C. Chow's interest confined to higher education: he is also Chairman of the School Management Committee, Kiangsu and Chekiang College, Kwai Chung.
Dr. Chow expresses deep compassion for those children on the Mainland who are deprived of the opportunity for the most rudimentary education, children to whose eyes the simple page of knowledge has never been unrolled. Believing in the maxim that it is better to light a candle than to curse the darkness, Dr. Chow has plans afoot to translate compassion into action: his fondest wish is to work out a plan for the provision of basic education for the poorest children on the Mainland. Dr. Chow believes that education can provide the wherewithal for young people to fend for themselves; because of this he feels that the provision of a sound education for each of his seven children is a greater gift than a vast inheritance. He also believes in education on the job; his employees are all provided with training. Once his executives have received education in the Chevalier family. Dr. Chow is prepared to delegate responsibility to them.
So many have benefited from Y.C. commitment to education not least our University. Indeed we would like to flatter ourselves that Dr. Chow has been particularly munificent in his largesse to us. A relatively new friend to us, he has proved a friend indeed. Dr. Chow is a Founding Honorary Patron of our Foundation for Educational Development and Research. We have already sought to honour him with an Honorary University Fellowship. It is fitting that our Engineering Building should bear his name. He affirms that he has given unstintingly and with alacrity because he has complete confidence in our University's judgement and integrity. The warmth of his endorsement is shown also in his enthusiastic participation in the activities of our institution and certainly by the fact of his having placed in our care one of his daughters. It is our hope that once Y.C. becomes one of our alumni his bonds with his bountiful mother will be strengthened yet further.
The name of Dr. Chow's conglomerate, Chevalier, was originally suggested by a Francophile friend. Y.C. Chow accepted it enthusiastically because of the positive connotations of chevalier: cavalier, a knight on horseback with an undaunted fighting spirit. He says, "there are many people in Hong Kong who are wealthier than I am. What I am proud of is not wealth, but a sense of achievement." And well may he be proud of his knightly attributes of truth and honour, freedom and courtesy. While Chow Yei Ching and Chevalier continue to donate to causes which will be of benefit to the community the age of chivalry is far from dead.
Mr. Chancellor, for his services to Hong Kong's economy and his staunch support of education I call upon you to confer on Dr. Chow Yei Ching the degree of Doctor of Laws honoris causa.