Main content start
HO Tim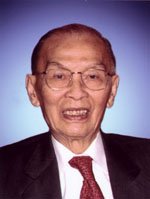 157th
Congregation
(1999)
HO Tim
Doctor of Laws
honoris causa
The Public Orator, Professor M.M.M. Chan, MA, MPhil, wrote and delivered the following citation:
"As a general rule, nobody has money who ought to have it." Benjamin Disraeli made this comment in a tongue-in-cheek way. Our next honorand, Dr Ho Tim, is credited by the community with a Midas touch: everything he touches turns to gold. But, although the self-effacing banker and financier attributes his initial success to luck and good timing, he has not acquired his golden touch through magic, but acumen, foresight, integrity and honest and generous business practices. Here is a man who ought to have his money.
Dr Ho was born in Hong Kong in 1909 to a family from Panyu. He spent his childhood in Guangzhou. He humbly claims that he received little formal education; out of a total of eight years of study under tutors, two years were the most significant in the formation of Dr Ho intellect and character: he and a group of other children studied intensively under the tutelage of two traditional scholars. The regimen was rigorous and demanding and he sees it as a superb preparation for life. This solid grounding in the classics and mathematics - coupled with his aptitude for business - stood him in excellent stead when he started working at the age of 15. His early ventures met with incredible success.
Hang Seng was started as a money changer in 1933 and Dr Ho was invited to join its staff; on January 1, 1953 Hang Seng became a fully fledged bank and was listed on the stock exchange in 1972. He was the Bank's first General Manager, becoming the Bank's Vice-Chairman during the period 1967 to 1979. Today he is still a Member of Hang Seng's Board of Directors. In addition he is Director of a number of public and private companies, including Miramar Hotel and Investment Company Ltd, of which he is also the Chairman, Sun Hung Kai Properties and New World Development Company Ltd. He still operates his own investment company. So indefatigable are his energy and drive that he has no thought of retiring.
Hang Seng Bank today is the largest local bank in Hong Kong and enjoys the finest reputation for reliability and service. At a time when the ethos now held as de regueur in Western management practice was still unfamiliar and little practised. Ho Tim and the management of Hang Seng promoted the idea of quality service: the customer comes first, and this ethos characterizes Hang Seng today; the tradition of friendly and personalized service persists and continues to contribute to the Bank's success. In this it seems to have received the imprint of Dr Ho's friendly, helpful and unpretentious personality.
Dr Ho's contributions are not limited to the world of banking and finance. He is a philanthropist. Ambrose Bierce has defined "philanthropist" as "rich (and ...) old gentleman who has trained himself to grin while his conscience is picking his pocket". What is witty is not always true. Dr Ho is indeed a gentleman and his bounty is as "boundless as the sea" and his pockets as deep.
His philanthropy takes in three areas and these areas reflect his main concerns: they are education, medical and health services and contributions towards forging ties with his clan and native village. He has often said modestly,
"I am just a merchant. There is nothing I can contribute. The only thing I have is a heart that wants to assist people. I just feel I ought to do my part, that's all." And what Dr Ho has done is impressive indeed. Among his many philanthropic activities he sees contribution to education as the most important. Every country needs talent, and education is the means of fostering talent. His donations are far too many to enumerate fully. I shall only attempt a very partial listing. He has donated the building for Hong Kong's SKH Kei Hau School, as well as Pi Ch'iu Building and the Ho Tim Building to the Chinese University of Hong Kong. In addition he has donated scholarships for the needy students of United, Chung Chi and New Asia Colleges. A pet charity is the Hang Seng School of Commerce, which has the aim of cultivating talent for the commercial sector.
Nor is Dr Ho's charity confined to educational institutions in Hong Kong. Beneficiaries of his munificence include St Hugh's College, Oxford, to which he donated money for the building of a hostel and the establishment of scholarships for Hong Kong students, and the University of East Asia in Macau. He has contributed to America Scripps Clinic and Research Foundation, to scholarship funds of the Medical School of Stanford University and Thailand's Asian Institute of Technology, as well as to Chan Chun Middle School in Shunde County. The Stanford scholarships are reserved for Chinese students who show promise in medical studies.
His sympathy for the sick, the needy, the old and the infirm have led him to build hospitals, rest homes and homes for the aged, for example, the Ho Ching Kai Building, the Pi Ch'iu Building and the Ho Tim Health Care Centre at Panyu People's Hospital, the Ho Tim Oldfolks' Home in Panyu and the Ho's Clansmen Association Hostel for the elderly in Shatin. Together with Sir Shiu Kin Tang he established the Tang Shiu Kin and Ho Tim Charitable Fund to lend assistance to Hong Kong people who are in need of emergency help. In addition Dr Ho has built nurseries and given generously to help Hong Kong's deaf, providing them with a clinic on wheels among other services.
"Ever loyal to his roots" and forebears he has been deeply involved with help for his native Panyu: he has donated money for setting up the Panyu Polytechnic, and has made contributions towards the erection of schools and the building of bridges. The fact that he has chosen to dedicate many of the buildings he has donated to his elders and forebears is an indication of the veneration in which he holds them, as a truly filial one.
With the return of Hong Kong to the Motherland in 1997 Dr Ho saw an opportunity to contribute towards China's developments in science and technology: together with three other Directors of Hang Seng, eminent members of Hong Kong society, Dr Ho Sin Hang, Dr K K Leung and Dr Q W Lee, Dr Ho set up the Ho Leung Ho Lee Trust, with each donating the sum of $100 million. The aim is to encourage and give assistance to scientists in China who achieve remarkable success in their respective fields. It would be fair to say that Dr Ho gives happily to any community cause which he sees as worthy.
Nor is his generosity confined to the giving of money. He is equally generous with his time and energy. He holds many public offices and scrupulously attends meeting and contributes his wise counsel when it is needed. He is, among other things, Permanent Member of the Board of Trustees of United College, the Chinese University of Hong Kong, a Council Member of the Chinese University of Hong Kong, a Board Member of the Hang Seng School of Commerce and Committee Member of the Tang Shiu Kin and Ho Tim Charitable Fund.
Dr Ho has deservedly received many public honours in recognition of his many contributions to the community. In 1965 he was made a Justice of the Peace and was awarded an OBE in 1979; in 1988 he was made an Honorary Citizen of Guangzhou and the French Government conferred upon him the Chevalier medal in 1990; he was made an Honorary Citizen of Panyu in 1993 and of Shunde two years later. In 1996 he was appointed to the Selection Committee for the first Chief Executive of the Hong Kong SAR. And, to our shame, we have allowed two of our fellow universities to steal a march on us: the Chinese University of Hong Kong conferred an Honorary Doctorate of Social Science on Dr Ho as early as 1982 while the City University of Hong Kong made him an Honorary Dr of Business Administration in 1997. Let us make up for our tardiness with even more than our usual warmth and enthusiasm.
Dr Ho is now almost ninety years young but he has the energy and verve for work and for recreation which would do a man half his age proud. His daily schedule of exercise, work, community service, socializing and play is a gruelling one. One of his hobbies is the collection of Chinese antiques, and many excellent pieces grace his office. It seems Dr Ho's love of beauty is rivalled only by his concern and sympathy for humanity.
Mr Pro-Chancellor, in recognition of his services to Hong Kong's financial industry and his unstinting support of education and social services, I call upon you to confer upon Dr Ho Tim the degree of Doctor of Laws, Honoris Causa.