Dear colleagues, students, alumni and friends,
As you may recall, HKU was the first university in the world to launch the United Nations (UN) Women's HeForShe Initiative on campus in April 2015.
Over the past year, my Senior Management Team and I have been joined by many members - both men and women, in the University community and outside it - as we have looked at ways to improve gender equity and diversity across campus. We are committed to making a real investment in creating lasting change and implementing practical measures to help realise these objectives.
Last week (see the attached photograph) I had the opportunity to speak at the United Nations during the launch of the HeForShe IMPACT 10x10x10 University Parity Report, which is the first progress report since 10 global universities publicly announced transformative commitments to improve gender parity by 2020. Later on the same day I attended the second anniversary celebration of the HeForShe initiative which was addressed by, amongst others, the President of Finland, the Prime Ministers of Japan and Canada, the First Lady of New York City, the Under-Secretary-General of the United Nations and UN goodwill ambassadors Emma Watson and Edgar Ramirez. It was a pleasure and an honour to represent HKU amongst such influential people on the world stage. All this took place during the 2016 UN General Assembly.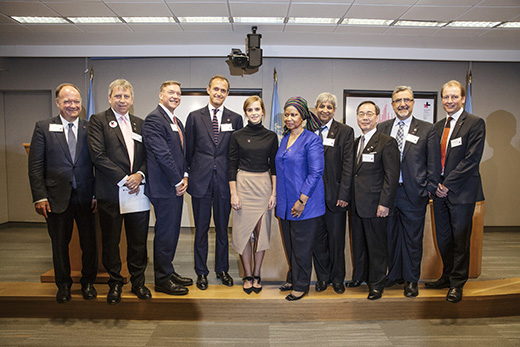 In HKU's section of the University Parity Report, the proportion of females at senior leadership level is quoted at 14% (it has improved since the data were submitted, and is now over 20%), tenured professors 18%, full-time Faculty 44%, graduate level 53% and undergraduate level 54%.
I would like to share with you now some of the HKU gender equity and diversity initiatives that were presented at the IMPACT Report launch.
For our colleagues, we're taking some very specific measures to advance women academics. These include
improving the gender balance of the senior teams (some progress has already been made, although this is not yet adequate);
improving maternity leave provision, addressing the need for breastfeeding facilities, aiming to open our own nursery;
starting to reform our processes around hiring of staff, their promotion and tenure decisions etc to ensure gender equity is part of all decision-making;
trebling the proportion of women in dean-level positions and above;
creating a policy requiring at least one woman on all appointment committees and that these committees include at least one woman on all shortlists.
For students, we will
create HeForShe Impact Scholarships for female students from the world's most economically deprived nations, as defined by the UN Human Development Index, and fully fund them for study at HKU: 5 in year 1, 10 in year 2, 15 in year 3 and 20 in year 4;
Since April 2015, I and others from HKU have organized and/or participated in a series of events on and off campus, often in collaboration with like-minded NGOs, charities, corporates and/or other universities, to generally raise the profile of gender equity. These will continue. Please attend: especially men!
We need culture change, system change, sustainable long-term policy change and the shared commitment to truly make a difference. Which is why addressing gender equity and diversity are now a part of all the decisions made at the University.
However, we can't do this alone. Locally in Hong Kong and Greater China, HKU has taken the lead in publicly addressing gender inequity, aiming to work with other universities in the region and with corporate sector organizations, especially (but not only) those that are also signed up as HeForShe impact champions or participants.
More importantly, within the HKU community, we will have to work together if we are to have an impact and create lasting, transformative change.
My team and I will continue to do our best to contribute. Please join us.
Professor Peter Mathieson
President and Vice-Chancellor